Portable Power Plus - your go to source for power stations, solar generators, solar panels and more!
We provide the best portable power solutions that are renewable, versatile, and environmentally friendly. Find your perfect portable power solution for camping, RV living, tailgating, general home use and emergency backup power.
What are Portable Power Generators?
Portable power solutions, such as power stations, solar generators and solar panels, offer numerous benefits to users who require on-the-go power. Portable power systems provide reliable and clean energy without the need for a traditional power source. This makes them an excellent option for outdoor activities, camping, or emergency situations. Portable power stations and solar generators are lightweight and compact, making them easy to carry and store. They can also be charged using solar energy, making them an eco-friendly alternative to traditional power sources. Portable power generators and solar panels, provide a convenient, versatile, and environmentally friendly way to meet your power needs anytime and anywhere.
Explore Now
WHAT OUR CUSTOMERS ARE SHOPPING FOR NOW
Portable Power Stations
Portable power stations, are typically lithium-ion battery generators. Power stations are compact devices that are designed to provide electrical power when you are away from a traditional power source. They usually include a rechargeable battery, an inverter to convert the DC power from the battery to AC power, and various outlets, including solar power to provide portable energy to devices, appliances and home emergency back up power use.
Portable power solutions are used for outdoor activities such as camping, hiking, or tailgating, as well as for emergency backup power during power outages or natural disasters. They can power a range of devices such as smartphones, laptops, lights, fans, small appliances, cpap machines and even power tools, depending on their capacity.
Portable power systems can be easily transported from home, on a road trip or to a campsite. Most often they are quieter and produce less pollution than traditional gas-powered generators.
EXPLORE NOW
Portable Solar Generators
Portable Solar generators are the ultimate solution for off-grid power needs. Solar generators are a reliable power source that can be used for camping, outdoor activities, and emergency situations. Solar generators are equipped with high-quality solar panels that can capture and store energy from the sun. They also have powerful batteries that can store energy for later use. The inverter converts the stored energy into usable AC power that can be used to power appliances and devices.
Benefits:
- Provides reliable power for off-grid activities and emergency situations
- Easy to use and transport
- Environmentally friendly and sustainable power source
- Can save money on energy bills by using renewable energy
- Can be used as a backup power source for home or business during power outages.
EXPLORE NOW
Portable Solar Panels
Portable solar panels are the perfect solution for those who love the outdoors and want to stay connected. Foldable and portable solar panels are lightweight, compact, and easy to carry, making them ideal for camping, hiking, and other outdoor activities. With its high-efficiency solar cells, it can charge your devices quickly and efficiently, even in low light conditions. They are built to last, with a durable and weather-resistant design that can withstand the toughest conditions.
Features:
- High-efficiency solar cells
- Lightweight and compact design
- Weather-resistant and durable
- USB output for charging devices
- Built-in kickstand for optimal positioning
- Stay connected and powered up while on the go
- Reduce your carbon footprint by using renewable energy
- Perfect for outdoor enthusiasts and adventurers
EXPLORE NOW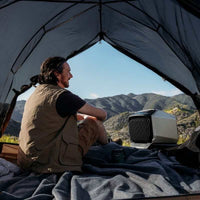 Portable Air Conditioners
A portable air conditioner is a compact, self-contained unit that is designed to cool a single room or small area. Unlike traditional air conditioning systems that are permanently installed, portable air conditioners can be easily moved from one location to another and do not require any complicated installation procedures. They work by drawing warm air from the room and passing it through a cooling coil filled with refrigerant, which removes heat and moisture from the air. The cooled air is then circulated back into the room, creating a more comfortable environment. Portable air conditioners are a convenient and cost-effective solution for cooling small spaces, tents, RV's, trucks and campers.
EXPLORE NOW
Here's What Customers are Saying